Radial Cut Wet
Avon has spent over 100 years developing and manufacturing our motorsport tyres to ensure championship winning performance. Manufactured in the UK.
Show available sizes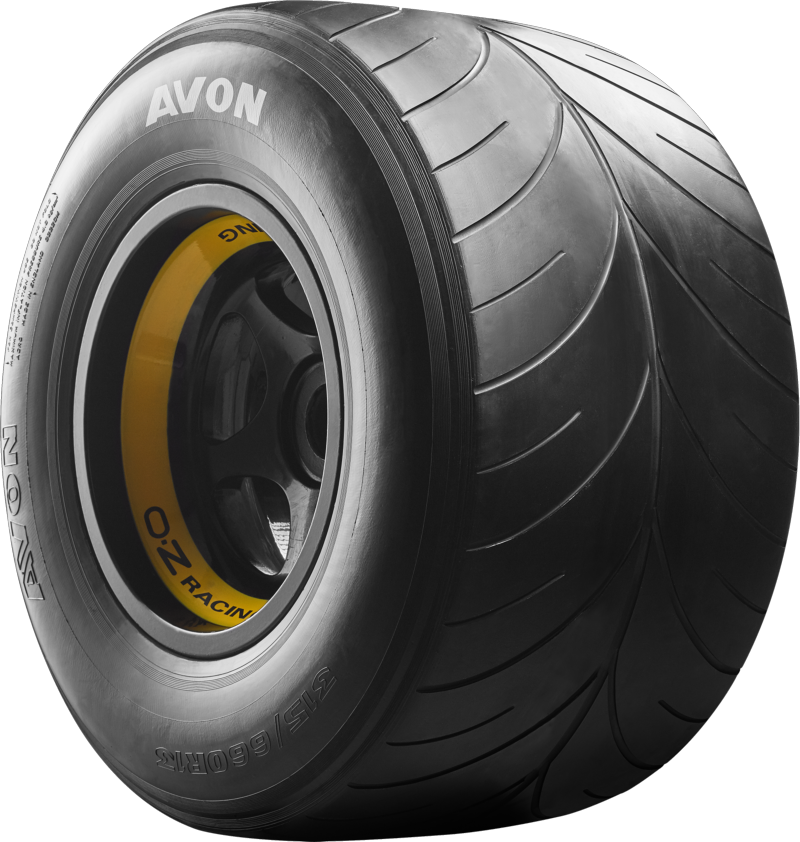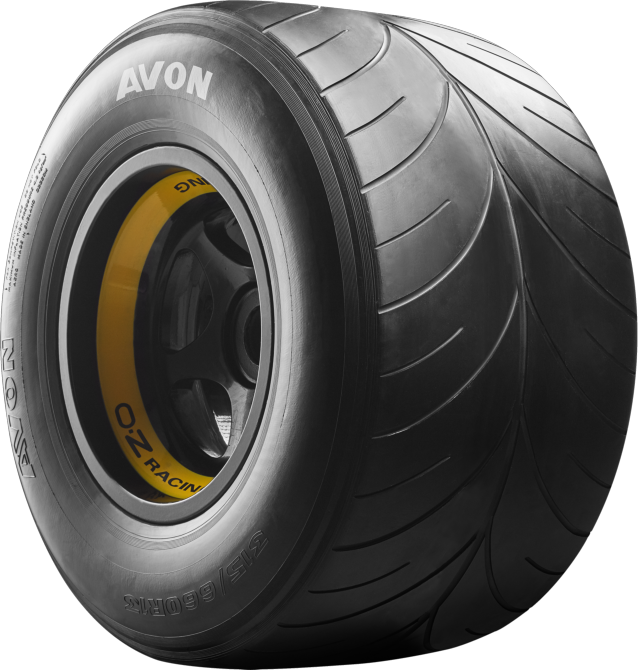 Features
The tyre's ability to grip the road in dry conditions.
The tyre's ability to grip the road in wet conditions.
The wear rate of the tyre.
The measure of how quiet a tyre is while driving.
How the tyre is able to respond to driving such as accelerating, braking, steering and turning.
The tyre's ability to have grip on unpaved surfaces such as dirt, mud, sand, rock or gravel.
*When compared to other Avon tyres
Radial Cut Wet
Wide range of sizes and patterns available

A size to match your vehicle and a pattern to suit your performance requirement.

A range of compounds available to maximise performance in wet weather conditions

A compound to match your application.

Wide range of radial constructions available

Construction to match your requirement.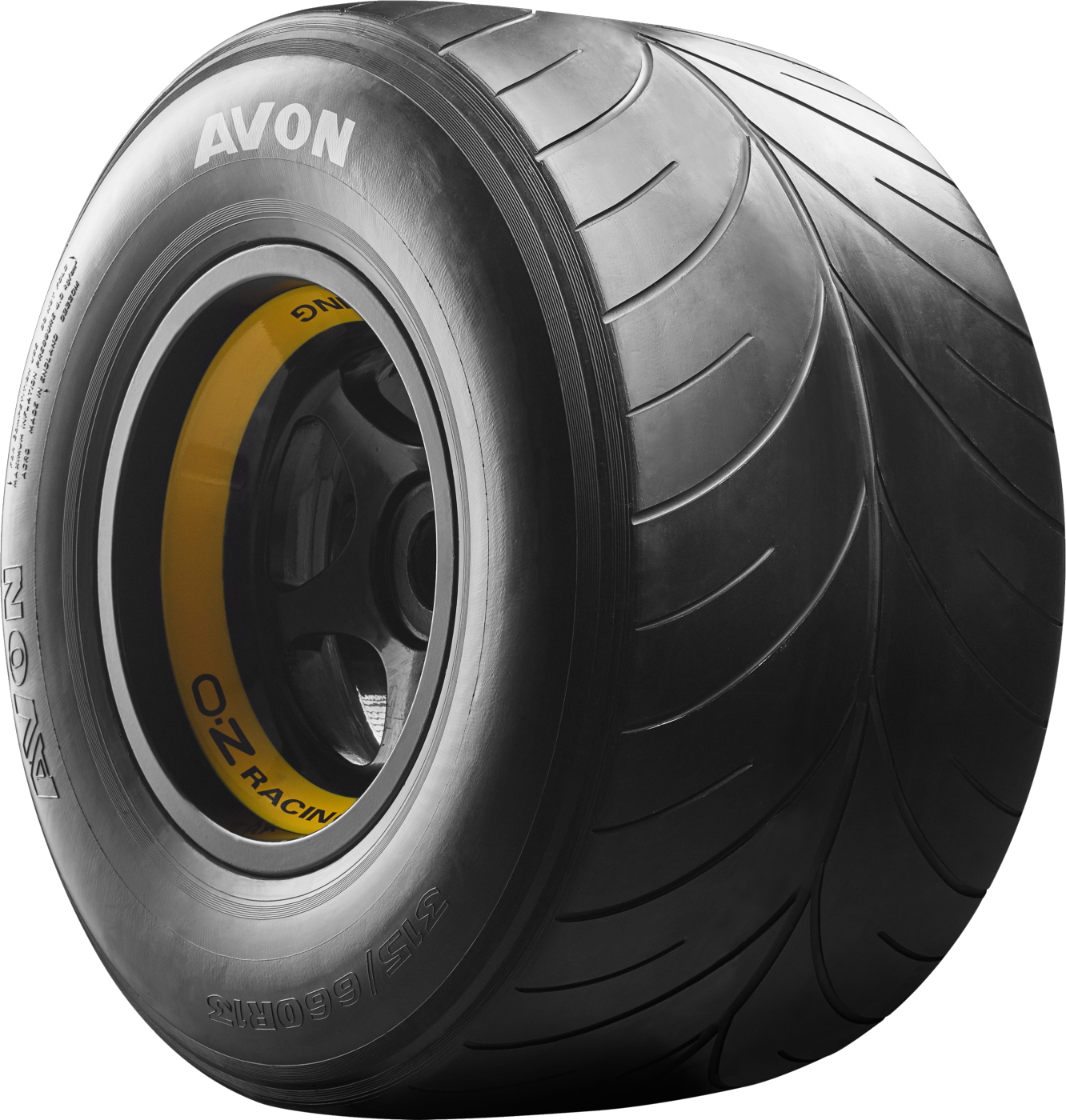 Full specs
Tyre specifications
There are 83 tyre sizes available
Tyre size

The nominal tyre size below is listed on the sidewall, this is a reference to the dimensions of the tyre. For example: Tyre Tread Width / Tyre Aspect Ratio or Tyre Diameter / Rim Diameter

Rim choice

Recommended range of wheel widths to be used

Rim used

Rim used for measurement of the tyre

Measured at

(cannot find text: coopertires_sites:site.tooltips.avon_motorsport_measured)

Diameter

Overall diameter of the tyre

Section

Overall section width of the tyre

Tread

Overall tread width of the tyre

Revolutions

Total number of rotations for the tyre to complete a mile or kilometre

Tread

Overall tread width of the tyre

psi
Bar
ins
mm
ins
mm
ins
mm
miles
km
patterns
160/530R13
5.5 - 7.0
6
20.0
1.4
20.90
531
7.40
188
6.26
159
965
600
View
175/530R13
6.0 - 8.0
6
22.0
1.5
20.95
532
7.76
197
7.01
178
963
598
View
195/530R13
8.0 - 9.0
8.5
20.0
1.4
20.80
528
9.69
246
8.15
207
970
602
N/A
200/540R13
8.0 - 9.5
9
21.0
1.4
21.30
541
9.61
244
7.99
203
947
588
N/A
180/550R13
8.0 - 9.5
9
20.0
1.4
21.80
554
9.49
241
7.24
184
925
575
View
210/550R13
9.0 - 10.0
10
20.0
1.4
21.80
554
10.59
269
8.27
210
925
575
View
230/550R13
9.0 - 11.0
10
20.0
1.4
21.80
554
11.42
290
9.21
234
925
575
View
180/565R13
7.0 - 10.0
7
20.0
1.4
22.38
568
8.66
220
7.20
183
901
560
View
200/565R13
8.0 - 10.0
8
22.0
1.5
22.32
567
10.20
259
8.46
215
904
561
View
245/570R13
9.5 - 11.0
10
20.0
1.4
22.64
575
11.30
287
9.96
253
891
554
View
250/570R13
10.0 - 11.0
10
20.0
1.4
22.60
574
11.42
290
9.69
246
892
555
View
275/570R13
10.5 - 12.0
11
20.0
1.4
22.70
577
12.40
315
10.83
275
888
552
View
290/570R13
10.5 - 12.0
11.75
20.0
1.4
22.80
579
12.48
317
11.10
282
885
550
View
225/600R13
10.0 - 11.0
10.5
20.0
1.4
23.75
603
11.26
286
8.27
210
849
528
View
245/600R13
10.0 - 11.0
10
20.0
1.4
23.62
600
11.30
287
9.57
243
854
531
View
300/600R13
13.0 - 14.0
13
20.0
1.4
23.90
607
14.65
372
11.85
301
844
524
View
330/620R13
14.0 - 16.0
15
20.0
1.4
24.44
621
15.91
404
13.50
343
825
513
View
245/640R13
11.0 - 12.5
11.75
20.0
1.4
25.10
638
12.20
310
10.04
255
804
499
View
270/660R13
11.0 - 12.5
11.75
20.0
1.4
25.70
653
13.39
340
11.06
281
785
488
View
315/660R13
13.0 - 15.0
13.75
20.0
1.4
25.75
654
15.00
381
12.24
311
783
487
View
350/660R13
14.0 - 16.0
15
20.0
1.4
25.67
652
16.85
428
14.57
370
786
488
View
370/660R13
14.0 - 16.0
15
20.0
1.4
25.75
654
17.01
432
15.00
381
783
487
View
210/550R15
8.0 - 10.0
8.5
26.0
1.8
21.90
556
9.49
241
8.66
220
921
572
View
230/550R15
8.0 - 10.0
10
26.0
1.8
21.70
551
10.94
278
9.25
235
929
578
View
190/570R15
6.5 - 7.5
7
20.0
1.4
22.60
574
8.27
210
7.76
197
892
555
View
250/570R15
10.0 - 11.0
10
20.0
1.4
22.60
574
11.42
290
9.69
246
892
555
View
275/570R15
10.0 - 11.0
10
20.0
1.4
22.60
574
11.42
290
10.71
272
892
555
N/A
290/570R15
11.0 - 12.0
12
29.0
2.0
22.60
574
12.99
330
11.22
285
892
555
N/A
205/580R15
7.0 - 8.0
7
29.0
2.0
22.83
580
8.58
218
8.19
208
883
549
View
225/580R15
8.0 - 9.0
8
29.0
2.0
22.83
580
9.57
243
9.06
230
883
549
View
240/600R15
10.0 - 11.0
10
20.0
1.4
23.46
596
10.98
279
9.88
251
860
534
N/A
300/600R15
11.5 - 12.5
12
29.0
2.0
23.80
605
13.86
352
11.81
300
847
527
View
330/620R15
14.0 - 16.0
15
20.0
1.4
24.41
620
15.28
388
13.86
352
826
513
View
255/635R15
10.0 - 11.0
10
22.0
1.5
25.24
641
11.61
295
9.72
247
799
497
N/A
275/635R15
10.0 - 12.0
10
22.0
1.5
25.30
643
11.93
303
10.71
272
797
495
N/A
290/700R15
10.0 - 11.0
10
45.0
3.1
27.54
700
13.39
340
11.54
293
732
455
N/A
290/710R15
10.0 - 11.0
10
45.0
3.1
27.98
711
13.31
338
11.46
291
721
448
N/A
350/720R15
14.0 - 15.0
14
22.0
1.5
28.31
719
16.26
413
13.86
352
712
443
View
205/580R16
7.0 - 8.0
7
29.0
2.0
22.80
579
8.35
212
8.07
205
885
550
View
210/600R16
7.0 - 8.5
7
20.0
1.4
23.60
599
8.58
218
8.27
210
855
531
View
240/600R16
8.0 - 10.0
9.5
20.0
1.4
23.60
599
10.43
265
9.65
245
855
531
N/A
265/600R16
10.0 - 12.0
10.75
20.0
1.4
23.60
599
11.46
291
10.31
262
855
531
View
200/605R16
7.0 - 8.5
7.5
20.0
1.4
23.90
607
8.62
219
7.87
200
844
524
View
230/610R16
8.0 - 9.0
8
20.0
1.4
24.41
620
8.94
227
8.27
210
826
513
N/A
250/610R16
9.0 - 10.0
9
20.0
1.4
24.29
617
9.84
250
9.53
242
830
516
View
300/610R16
10.0 - 12.0
10.75
20.0
1.4
24.30
617
12.56
319
12.52
318
830
516
N/A
325/630R16
12.0 - 13.0
12
20.0
1.4
25.00
635
13.35
339
12.09
307
807
501
View
200/605R17
7.0 - 8.0
8
29.0
2.0
24.00
610
8.70
221
7.91
201
840
522
N/A
230/605R17
8.0 - 9.0
9
29.0
2.0
24.00
610
9.84
250
9.21
234
840
522
View
205/610R17
7.0 - 8.0
8
29.0
2.0
24.50
622
8.46
215
7.91
201
823
512
View
215/610R17
7.5 - 8.5
8
20.0
1.4
24.38
619
9.06
230
8.39
213
827
514
N/A
210/620R17
7.0 - 8.0
7.5
20.0
1.4
24.20
615
9.02
229
8.27
210
833
518
View
230/620R17
8.5 - 9.5
9
20.0
1.4
24.38
619
9.80
249
8.98
228
827
514
View
250/620R17
9.5 - 10.5
10
20.0
1.4
24.35
618
10.98
279
10.00
254
828
515
N/A
210/635R17
7.0 - 8.0
8
20.0
1.4
25.00
635
9.06
230
8.07
205
807
501
View
240/635R17
8.5 - 9.5
9
20.0
1.4
25.20
640
9.88
251
9.25
235
800
497
N/A
255/635R17
9.5 - 10.5
10
20.0
1.4
25.20
640
10.75
273
9.88
251
800
497
N/A
275/635R17
10.5 - 11.5
11
20.0
1.4
25.20
640
11.61
295
10.51
267
800
497
View
285/645R17
10.0 - 12.0
11
20.0
1.4
25.39
645
12.24
311
11.30
287
794
494
N/A
290/645R17
10.5 - 12.5
12
20.0
1.4
25.60
650
12.68
322
11.22
285
788
490
N/A
300/650R17
11.0 - 12.5
12
26.0
1.8
25.79
655
12.60
320
11.73
298
782
486
View
210/640R18
7.0 - 8.5
8
29.0
2.0
25.50
648
8.94
227
8.39
213
791
491
View
225/640R18
8.0 - 9.0
9
29.0
2.0
25.50
648
10.12
257
8.90
226
791
491
View
240/640R18
8.5 - 9.5
9
29.0
2.0
25.40
645
10.79
274
9.41
239
794
493
View
250/640R18
9.5 - 10.5
10
29.0
2.0
25.40
645
11.18
284
9.88
251
794
493
View
335/645R18
12.0 - 13.5
12
29.0
2.0
25.75
654
13.31
338
12.99
330
783
487
View
270/650R18
10.0 - 11.0
11
29.0
2.0
25.80
655
11.89
302
10.71
272
782
486
View
300/650R18
11.0 - 12.5
12
29.0
2.0
25.70
653
12.95
329
11.97
304
785
488
View
270/680R18
10.5 - 11.5
11
29.0
2.0
26.90
683
11.73
298
10.24
260
750
466
View
285/680R18
11.0 - 12.0
11
29.0
2.0
27.00
686
11.89
302
10.98
279
747
464
N/A
300/680R18
12.0 - 13.0
12
29.0
2.0
26.85
682
12.99
330
12.01
305
751
467
N/A
280/705R18
11.0 - 12.0
11
29.0
2.0
27.80
706
12.09
307
10.87
276
725
451
View
300/705R18
12.0 - 13.0
12
29.0
2.0
27.80
706
12.99
330
11.77
299
725
451
View
320/705R18
13.0 - 14.0
13
29.0
2.0
27.80
706
13.86
352
12.56
319
725
451
N/A
365/720R18
14.5 - 16.0
14.5
29.0
2.0
28.39
721
15.94
405
14.37
365
710
441
N/A
210/640R19
8.0 - 9.0
9
29.0
2.0
25.55
649
8.70
221
8.31
211
789
490
N/A
225/640R19
7.5 - 8.5
8.5
29.0
2.0
25.50
648
9.25
235
8.98
228
791
491
N/A
240/640R19
8.5 - 9.5
9
29.0
2.0
25.50
648
9.88
251
9.37
238
791
491
N/A
250/640R19
8.5 - 10.5
9
29.0
2.0
25.35
644
10.16
258
9.76
248
796
494
N/A
270/680R19
10.5 - 11.5
10.5
29.0
2.0
26.80
681
11.46
291
10.55
268
753
468
N/A
285/680R19
11.0 - 12.0
12
29.0
2.0
26.90
683
12.87
327
11.22
285
750
466
N/A
300/680R19
12.0 - 13.0
12
29.0
2.0
26.90
683
12.99
330
11.89
302
750
466
View
320/705R19
13.0 - 14.0
13
29.0
2.0
27.70
704
14.09
358
12.83
326
728
452
View
Wet weather patterns
Tyre size
Classic
Universal
ACR71
Modern
Historic
Intermediate
BGT
Saloon
Rallycross Wet and ACB11 Modification
Sidecar
Available Moulded Sizes
Wet
Wet
Type Wet
Wet
All Weather
Int
Wet
Wet
Classic
Universal
Stage 1-3
Wet
Crossply
Radial
160/530R13
-
M007
ACR71E
-
-
-
-
N004
RX103
-
-
-
-
-
175/530R13
-
M004
-
-
-
-
-
-
-
-
-
-
-
CR71
195/530R13
-
-
-
-
-
-
-
-
-
-
-
-
-
-
200/540R13
-
-
-
-
-
-
-
-
-
-
-
-
-
-
180/550R13
-
-
-
-
-
-
-
-
-
-
-
-
-
CR71
210/550R13
W003
M008
ACR71S
C012
-
-
-
-
-
-
-
-
-
-
230/550R13
-
M009
-
-
-
-
-
-
-
-
-
-
-
-
180/565R13
-
M007
ACR71O
C011
-
-
-
N004
RX104
-
-
-
-
-
200/565R13
W004
M002
ACR71W
-
-
-
-
-
-
-
-
-
-
-
245/570R13
-
M003
ACR71R
-
-
INT017
-
-
-
-
-
-
-
-
250/570R13
-
M009
-
-
-
-
-
-
-
-
-
-
-
-
275/570R13
-
-
-
C013
-
-
-
-
-
-
-
-
-
-
290/570R13
W008
M010
ACR71X
-
-
-
-
-
-
-
-
-
-
CR71
225/600R13
-
M003
-
C012
-
-
-
-
-
-
-
-
-
-
245/600R13
-
M003
ACR71P
-
-
INT020
-
-
-
-
-
-
-
-
300/600R13
W011
M005
ACR71Q
-
-
-
-
-
-
-
-
-
-
-
330/620R13
-
-
-
-
-
INT018
-
-
-
-
-
-
-
CR71
245/640R13
W005
M003
ACR71U
C012
-
-
-
-
-
-
-
-
-
CR71
270/660R13
-
-
-
C013
-
-
-
-
-
-
-
-
-
-
315/660R13
W010
M010
ACR71T
C004
-
INT019
-
-
-
-
-
-
-
-
350/660R13
W012
M005
-
C004
-
-
-
-
-
-
-
-
-
-
370/660R13
-
-
ACR71J
-
-
-
BGT009
N004
-
-
-
-
-
-
210/550R15
-
-
ACR71V
-
-
-
-
N003
-
-
-
-
-
-
230/550R15
-
M002
-
-
-
-
-
-
-
-
-
-
-
CR71
190/570R15
-
M002
-
-
-
-
-
N002
-
-
-
-
-
-
250/570R15
-
M003
-
-
-
-
-
-
-
-
-
-
-
-
275/570R15
-
-
-
-
-
-
-
-
-
-
-
-
-
-
290/570R15
-
-
-
-
-
-
-
-
-
-
-
-
-
-
205/580R15
-
M008
-
-
-
INT015
-
N003
-
-
-
-
-
-
225/580R15
-
M003
-
-
-
-
-
N003
-
-
-
-
-
-
240/600R15
-
-
-
-
-
-
-
-
-
-
-
-
-
-
300/600R15
-
M010
-
-
-
-
-
-
-
-
-
-
-
CR71
330/620R15
-
M005
-
C004
-
-
-
-
-
-
-
-
-
-
255/635R15
-
-
-
-
-
-
-
-
-
-
-
-
-
-
275/635R15
-
-
-
-
-
-
-
-
-
-
-
-
-
-
290/700R15
-
-
-
-
-
-
-
-
-
-
-
-
-
-
290/710R15
-
-
-
-
-
-
-
-
-
-
-
-
-
-
350/720R15
-
-
-
-
-
-
BGT001
-
-
-
-
-
-
-
205/580R16
-
-
-
-
-
INT015
-
N002
-
-
-
-
-
-
210/600R16
-
-
-
-
-
-
BGT014
-
-
-
-
-
-
-
240/600R16
-
-
-
-
-
-
-
-
-
-
-
-
-
-
265/600R16
-
-
-
-
-
INT016
-
-
-
-
-
-
-
-
200/605R16
-
-
-
-
-
-
BGT001
N004
-
-
-
-
-
-
230/610R16
-
-
-
-
-
-
-
-
-
-
-
-
-
-
250/610R16
-
M003
-
-
-
-
-
-
-
-
-
-
-
-
300/610R16
-
-
-
-
-
-
-
-
-
-
-
-
-
-
325/630R16
-
-
-
-
-
-
BGT001
-
-
-
-
-
-
-
200/605R17
-
-
-
-
-
-
-
-
-
-
-
-
-
-
230/605R17
-
-
-
-
-
-
BGT003
-
-
-
-
-
-
-
205/610R17
-
-
-
-
-
-
-
N002
-
-
-
-
-
-
215/610R17
-
-
-
-
-
-
-
-
-
-
-
-
-
-
210/620R17
-
-
-
-
-
-
BGT001
N004
-
-
-
-
-
-
230/620R17
-
-
-
-
-
-
-
N004
-
-
-
-
-
-
250/620R17
-
-
-
-
-
-
-
-
-
-
-
-
-
-
210/635R17
-
-
-
-
-
-
BGT009
-
-
-
-
-
-
-
240/635R17
-
-
-
-
-
-
-
-
-
-
-
-
-
-
255/635R17
-
-
-
-
-
-
-
-
-
-
-
-
-
-
275/635R17
-
M010
-
-
-
-
-
-
-
-
-
-
-
-
285/645R17
-
-
-
-
-
-
-
-
-
-
-
-
-
-
290/645R17
-
-
-
-
-
-
-
-
-
-
-
-
-
-
300/650R17
-
-
-
-
-
-
BGT009
-
-
-
-
-
-
-
210/640R18
-
-
-
-
-
-
BGT002
N003
-
-
-
-
-
-
225/640R18
-
-
-
-
-
-
BGT010
N003
-
-
-
-
-
-
240/640R18
-
-
-
-
-
-
BGT004
-
-
-
-
-
-
-
250/640R18
-
M013
-
-
-
-
-
-
-
-
-
-
-
-
335/645R18
-
-
-
C004
-
-
BGT011
-
-
-
-
-
-
-
270/650R18
-
-
-
-
-
-
BGT006
-
-
-
-
-
-
-
300/650R18
-
-
-
-
-
-
-
-
-
-
-
-
-
CR88
270/680R18
-
-
-
-
-
-
BGT006
-
-
-
-
-
-
-
285/680R18
-
-
-
-
-
-
-
-
-
-
-
-
-
-
300/680R18
-
-
-
-
-
-
-
-
-
-
-
-
-
-
280/705R18
-
M014
-
-
-
-
BGT004
-
-
-
-
-
-
-
300/705R18
-
M012
-
-
-
-
BGT008
-
-
-
-
-
-
-
320/705R18
-
-
-
-
-
-
-
-
-
-
-
-
-
-
365/720R18
-
-
-
-
-
-
-
-
-
-
-
-
-
-
210/640R19
-
-
-
-
-
-
-
-
-
-
-
-
-
-
225/640R19
-
-
-
-
-
-
-
-
-
-
-
-
-
-
240/640R19
-
-
-
-
-
-
-
-
-
-
-
-
-
-
250/640R19
-
-
-
-
-
-
-
-
-
-
-
-
-
-
270/680R19
-
-
-
-
-
-
-
-
-
-
-
-
-
-
285/680R19
-
-
-
-
-
-
-
-
-
-
-
-
-
-
300/680R19
-
M012
-
-
-
-
BGT008
-
-
-
-
-
-
-
320/705R19
-
-
-
-
-
-
-
-
-
-
-
-
-
CR71
Speak to an expert