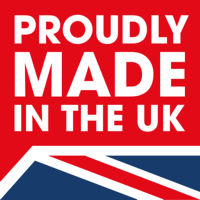 ROADRIDER MKII
Designed for motorcycles of all ages, the Roadrider MKII provides a step forward in performance and reliability over its predecessor.
Show available sizes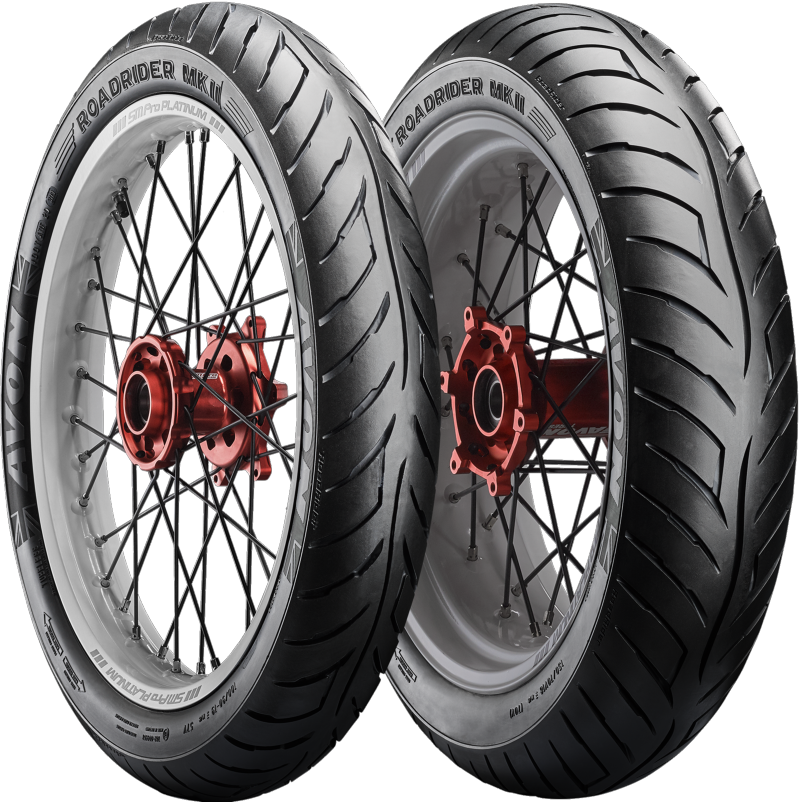 Features
The tyre's ability to grip the road in dry conditions.
The tyre's ability to grip the road in wet conditions.
The wear rate of the tyre.
The measure of how quiet a tyre is while driving.
How the tyre is able to respond to driving such as accelerating, braking, steering and turning.
The tyre's ability to have grip on unpaved surfaces such as dirt, mud, sand, rock or gravel.
*When compared to other Avon tyres
ROADRIDER MKII
Timeless appearance

Cutting-edge performance with aesthetics that suit bikes of all ages.

New tyre construction

Enhanced handling and stability in both wet and dry conditions.

Enhanced sidewall design

Reduction in the effects of ozone degradation.

Full specs
Tyre specifications
There are 37 tyre sizes available
Tyre size

The tire size is made up of: Tread Width / Aspect Ratio / Rim Diameter. For example 245/50R18

Load/Speed

https://www.avontyres.com/en-gb/tyre-care/technical/load-index-and-speed-rating-sy/

Position

(cannot find text: coopertires_sites:site.tooltips.avon_motorcycle_standard)

Rec.rim

(cannot find text: coopertires_sites:site.tooltips.avon_motorcycle_rim_rec)

Alt. Rim

(cannot find text: coopertires_sites:site.tooltips.avon_motorcycle_rim_alt)

Width

The tire width is a millimetre measurement for the width of the tire. For example 245 mm when reading a tire size of 245/50R18

Width

The tire width is a millimetre measurement for the width of the tire. For example 245 mm when reading a tire size of 245/50R18

Diameter

The rim diameter is the wheel diameter in inches. For example 18 inches when reading a tire size of 245/50R18

Diameter

The rim diameter is the wheel diameter in inches. For example 18 inches when reading a tire size of 245/50R18

Tread depth

(cannot find text: coopertires_sites:site.tooltips.avon_motorcycle_depth)

ins
ins (min/max)
mm
ins
mm
ins
mm
90/90 - 21
54V
F
MT2.15
1.85-2.50
98
3.9
698
27.5
5
100/90 - 19
57V
F/R
MT2.50
2.15-2.75
109
4.3
671
26.4
5.6
90/90 - 19
52V
F
MT2.15
1.85-2.50
99
3.9
647
25.5
5
3.25 - 19
54V
F/R
MT2.15
1.85-2.50
98
3.9
664
26.1
5
150/70 V 18
70V
R
MT4.25
3.50-4.50
154
6.1
679
26.7
7.5
140/70 V 18
67V
R
MT3.75
3.50-4.50
142
5.6
666
26.2
7.5
130/70 V 18
63V
R
MT3.50
3.00-4.00
133
5.2
649
25.6
7.5
130/70 - 18
63H
R
MT3.50
3.00-4.00
133
5.2
649
25.6
7.5
130/80 V 18
66V
R
MT2.75
2.50-3.50
137
5.4
672
26.5
7.5
120/80 - 18
62V
F/R
MT2.75
2.50-3.00
120
4.7
652
25.7
7.5
120/90 - 18
65V
F/R
MT2.75
2.50-3.00
129
5.1
675
26.6
7.5
110/80 V 18
58V
F/R
MT2.50
2.15-3.00
111
4.4
640
25.2
5.6
110/90 V 18
61V
F/R
MT2.50
2.15-3.00
116
4.6
663
26.1
5.6
100/90 - 18
56V
F/R
MT2.50
2.15-2.75
108
4.3
642
25.3
5.6
100/90 - 18
56H
F/R
MT2.50
2.15-2.75
108
4.3
642
25.3
5.6
90/90 - 18
51V
F/R
MT2.15
1.85-2.50
97
3.8
619
24.4
5
4.00 - 18
64V
R
MT2.50
2.15-3.00
116
4.6
671
26.4
7.5
150/70 V 17
69V
R
MT4.25
3.50-4.50
156
6.1
656
25.8
7.5
140/70 - 17
66V
R
MT3.75
3.50-4.50
140
5.5
641
25.2
7.5
140/70 - 17
66H
R
MT3.75
3.50-4.50
140
5.5
641
25.2
7.5
140/80 V 17
69V
F/R
MT3.50
2.75-3.75
143
5.6
665
26.2
7.5
130/70 - 17
62H
F/R
MT3.50
3.00-4.00
130
5.1
625
24.6
7.5
130/80 - 17
65V
R
MT3.00
2.50-3.50
136
5.4
645
25.4
7.5
130/80 - 17
65H
R
MT3.00
2.50-3.50
136
5.4
645
25.4
7.5
130/90 - 17
68V
R
MT3.50
2.50-3.50
140
5.5
671
26.4
7.5
120/70 V 17
58V
F
MT3.50
2.75-3.75
120
4.7
607
23.9
5
120/80 - 17
61V
F/R
MT2.75
2.50-3.00
120
4.7
629
24.8
7.5
120/90 - 17
64V
F/R
MT2.75
2.50-3.00
128
5.0
649
25.6
7.5
110/70 V 17
54V
F/R
MT3.00
2.50-3.50
108
4.3
593
23.3
5
110/70 - 17
54H
F/R
MT3.00
2.50-3.50
108
4.3
593
23.3
5
110/80 V 17
57V
F
MT2.50
2.15-3.00
112
4.4
614
24.2
5
110/80 - 17
57H
F
MT2.50
2.15-3.00
112
4.4
614
24.2
5
100/80-17
52H
F
MT2.50
2.15-2.75
101
4.0
595
23.4
5
150/80 V 16
71V
R
MT3.50
3.00-4.25
161
6.3
655
25.8
7.5
130/90 V 16 RF
73V
R
3.00D
2.50-3.50
137
5.4
646
25.4
7.5
120/80 V 16
60V
F/R
MT2.75
2.50-3.00
126
5.0
601
23.7
5.6
160/80 V 15
74V
R
MT3.75
3.00-4.50
162
6.4
637
25.1
7.5
Speak to an expert