ZZR
Selected as Original Equipment by performance vehicle manufacturers and run as a control tyre in numerous championships. Manufactured in the UK.
Show available sizes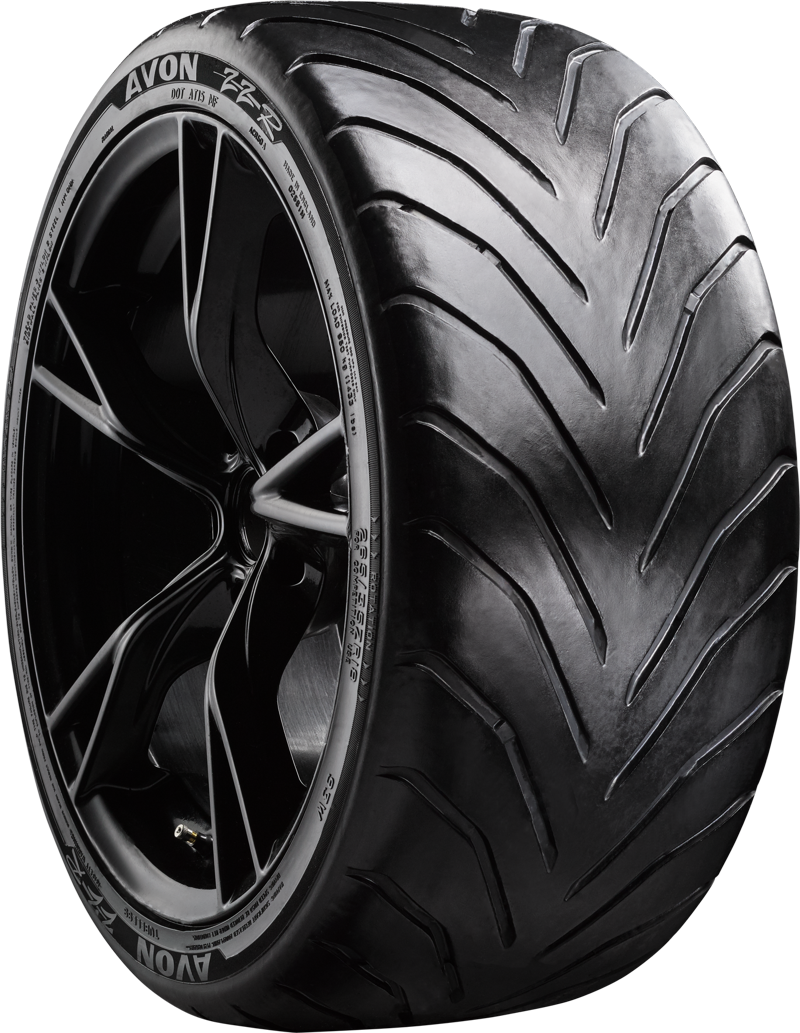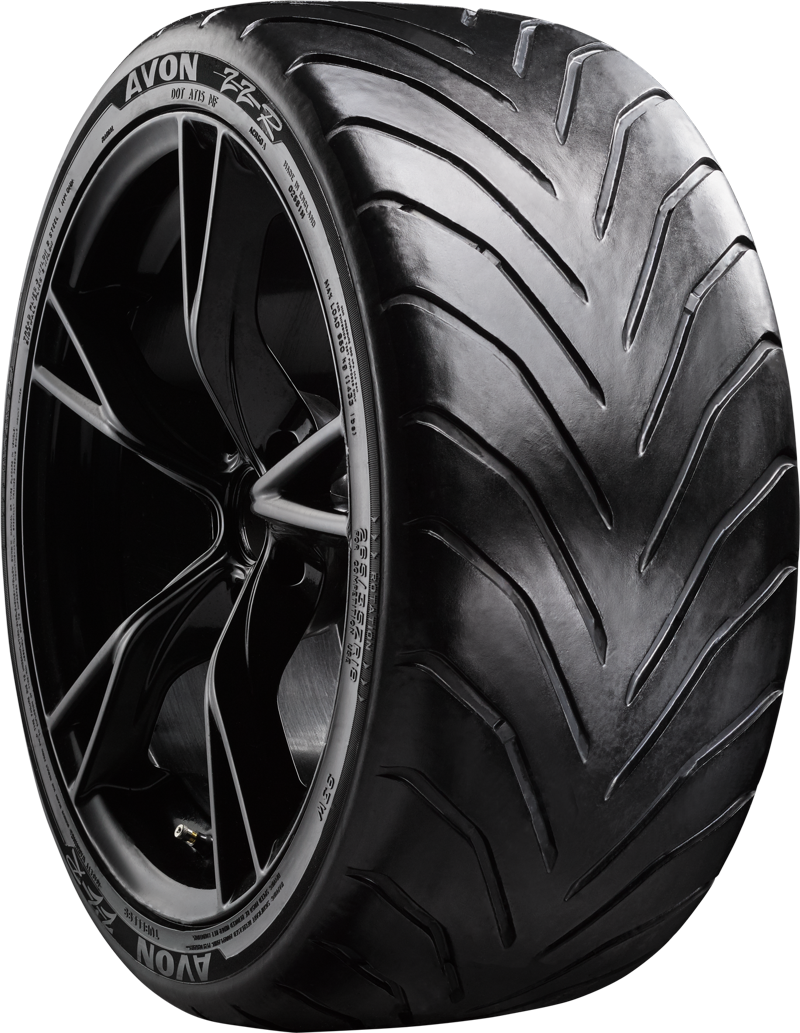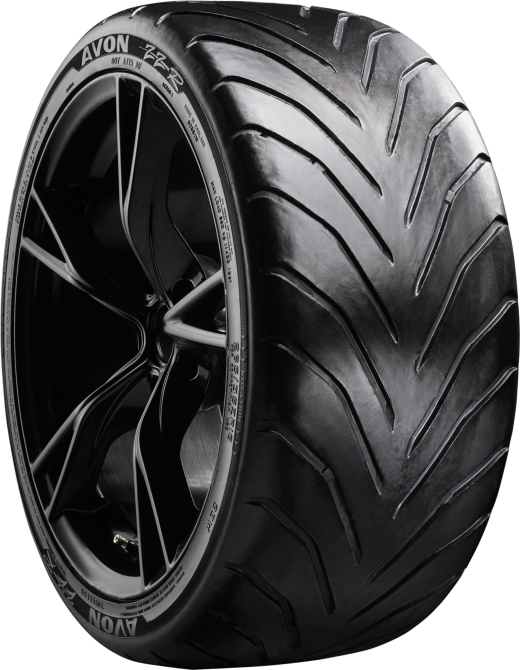 Features
The tyre's ability to grip the road in dry conditions.
The tyre's ability to grip the road in wet conditions.
The wear rate of the tyre.
The measure of how quiet a tyre is while driving.
How the tyre is able to respond to driving such as accelerating, braking, steering and turning.
The tyre's ability to have grip on unpaved surfaces such as dirt, mud, sand, rock or gravel.
*When compared to other Avon tyres
ZZR
Dry weather orientated tread pattern

Extreme stability.

Full racing tread compound

Outstanding levels of grip.

Full competition construction

Optimum on track performance.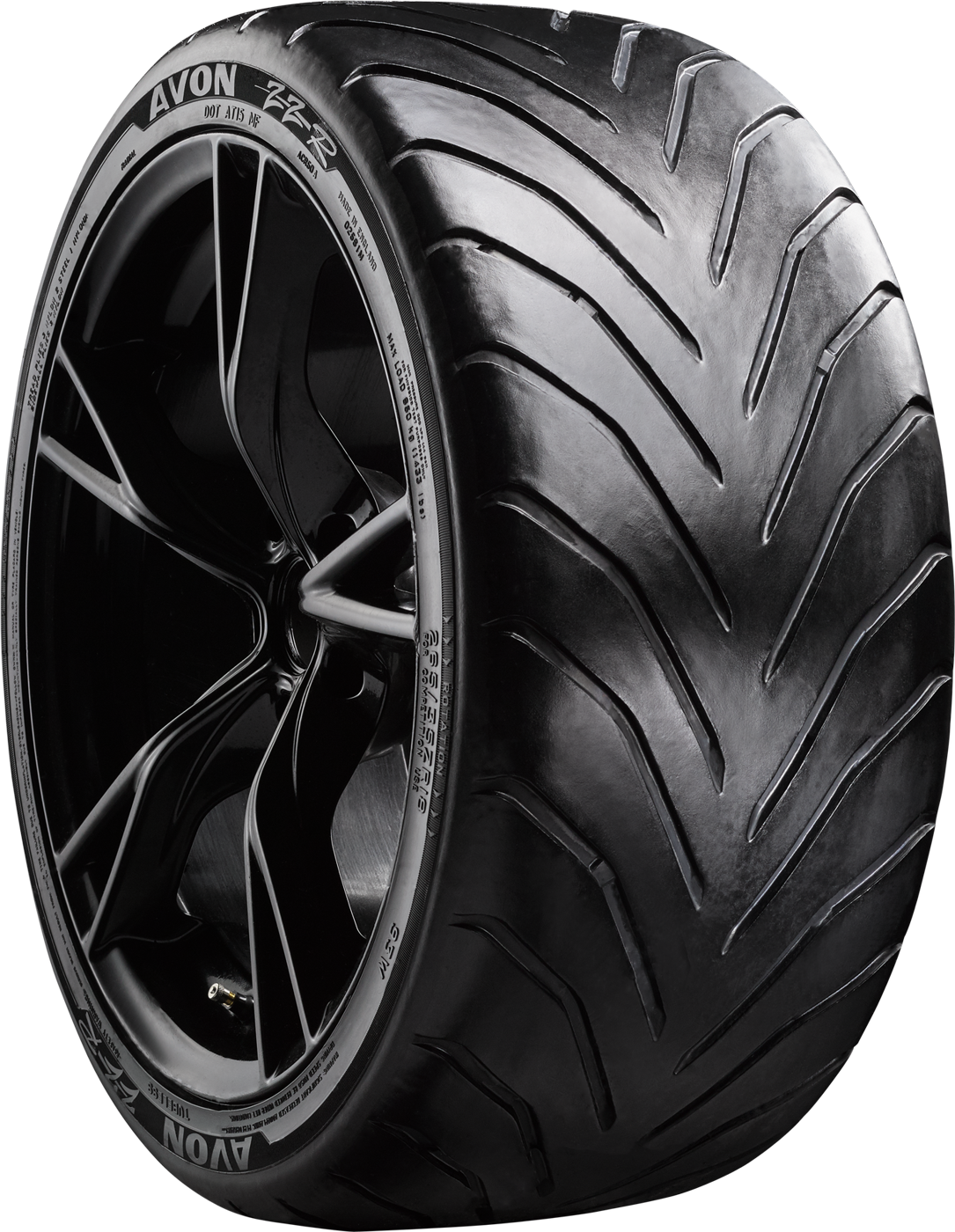 Full specs
Tyre specifications
There are 25 tyre sizes available
Tyre size

The nominal tyre size below is listed on the sidewall, this is a reference to the dimensions of the tyre. For example: Tyre Tread Width / Tyre Aspect Ratio or Tyre Diameter / Rim Diameter

Service

(cannot find text: coopertires_sites:site.tooltips.avon_motorsport_service_index)

Compound

(cannot find text: coopertires_sites:site.tooltips.avon_motorsport_compound)

UTQG

(cannot find text: coopertires_sites:site.tooltips.avon_motorsport_utqg)

UTQG

(cannot find text: coopertires_sites:site.tooltips.avon_motorsport_utqg)

UTQG

(cannot find text: coopertires_sites:site.tooltips.avon_motorsport_utqg)

Rim choice

Recommended range of wheel widths to be used

Rim used

Rim used for measurement of the tyre

Measured at

(cannot find text: coopertires_sites:site.tooltips.avon_motorsport_measured)

Diameter

Overall diameter of the tyre

Section

Overall section width of the tyre

Tread

Overall tread width of the tyre

Revolutions

Total number of rotations for the tyre to complete a mile or kilometre

EU label

(cannot find text: coopertires_sites:site.tooltips.avon_motorsport_eu_label)

Index
Treadwear
Traction
Temperature
psi
Bar
ins
mm
ins
mm
ins
mm
miles
km
185/55R13
83H XL
EXT
20
B
A
5.5 - 7.0
6
22.0
1.5
20.85
530
7.95
202
6.69
170
967
601
185/55R13
83W XL
A64
20
B
A
5.5 - 7.0
6
22.0
1.5
20.85
530
7.95
202
6.69
170
967
601
185/55R13
83H XL
A24
20
B
A
5.5 - 7.0
6
22.0
1.5
20.85
530
7.95
202
6.69
170
967
601
215/55R13
88H
EXT
20
B
A
7.0 - 8.5
8
22.0
1.5
22.00
559
9.06
230
7.87
200
917
570
215/55R13
88W
A64
20
B
A
7.0 - 8.5
8
22.0
1.5
22.00
559
9.06
230
7.87
200
917
570
215/55R13
88H
A24
20
B
A
7.0 - 8.5
8
22.0
1.5
22.00
559
9.06
230
7.87
200
917
570
245/50R13
93H
EXT
20
B
A
8.0 - 9.5
8.5
30.0
2.1
22.80
579
10.04
255
9.41
239
885
550
245/50R13
97W XL
A64
20
B
A
8.0 - 9.5
8.5
30.0
2.1
22.80
579
10.04
255
9.41
239
885
550
185/55R14
80W
A64
260
A
A
5.5 - 7.0
6
26.0
1.8
22.16
563
7.83
199
7.60
193
910
566
185/55R14
80H
A24
20
B
A
5.5 - 7.0
6
26.0
1.8
22.16
563
7.83
199
7.60
193
910
566
195/50R15
82W
A64
20
B
A
5.5 - 7.0
6
30.0
2.1
22.71
577
7.91
201
6.97
177
888
552
195/50R15
82H
A24
20
B
A
5.5 - 7.0
6
30.0
2.1
22.71
577
7.91
201
6.97
177
888
552
205/50R15
86W
A64
20
B
A
6.5 - 7.5
6.5
30.0
2.1
23.11
587
8.43
214
7.72
196
873
542
205/50R15
86H
A24
20
B
A
6.5 - 7.5
6.5
30.0
2.1
23.11
587
8.43
214
7.72
196
873
542
195/50R16
84W
A64
20
B
A
5.5 - 7.0
6
30.0
2.1
23.70
602
8.43
214
7.36
187
851
529
195/50R16
84H
A24
20
B
A
5.5 - 7.0
6
30.0
2.1
23.70
602
8.43
214
7.36
187
851
529
225/45R16
89W
A64
20
B
A
7.0 - 8.5
7.5
30.0
2.1
23.93
608
8.86
225
7.99
203
843
524
245/45R16
94W
A64
20
B
A
7.5 - 9.0
8
30.0
2.1
24.57
624
9.96
253
9.45
240
821
510
215/40R17
83W
A64
20
B
A
7.0 - 8.5
7.5
30.0
2.1
23.77
604
8.58
218
7.60
193
848
527
215/40R17
83H
A24
20
B
A
7.0 - 8.5
7.5
30.0
2.1
23.77
604
8.58
218
7.60
193
848
527
225/45R17
90W
A64
20
B
A
7.0 - 8.5
7.5
30.0
2.1
24.96
634
8.86
225
8.27
210
808
502
225/45R17
90H
A24
20
B
A
7.0 - 8.5
7.5
30.0
2.1
24.96
634
8.86
225
8.27
210
808
502
255/40R17
94W
A64
20
B
A
8.5 - 10.0
9
30.0
2.1
25.04
636
10.24
260
9.49
241
805
500
225/40R18
88W
A64
20
B
A
7.5 - 9.0
8
30.0
2.1
25.07
637
9.06
230
7.99
203
804
500
265/35R18
93W
A64
20
B
A
9.0 - 10.0
9.5
30.0
2.1
25.31
643
10.67
271
9.25
235
797
495
Speak to an expert