Slick Historic
Homologated and specified for many historic race championships. Manufactured in the UK and Europe.
Show available sizes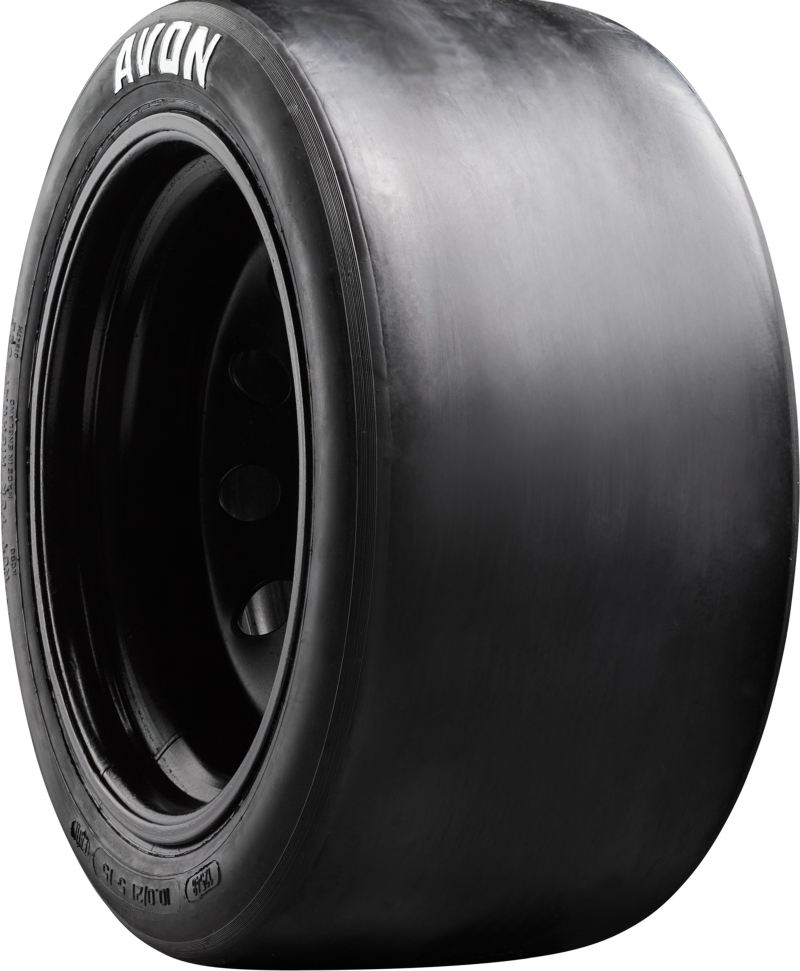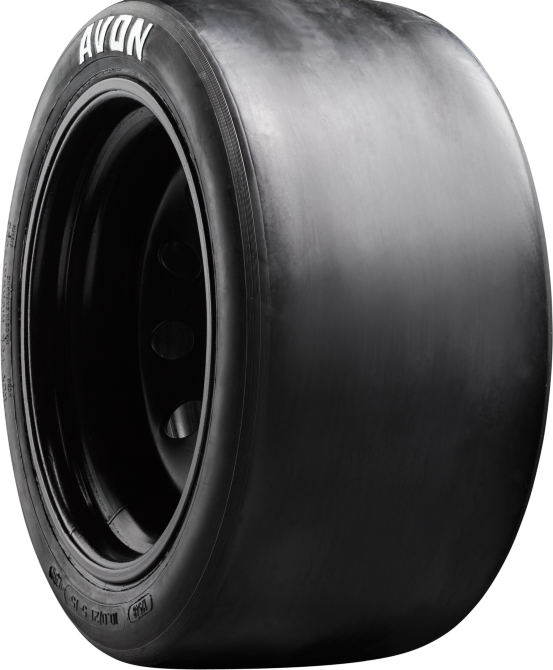 Features
The tyre's ability to grip the road in dry conditions.
The tyre's ability to grip the road in wet conditions.
The wear rate of the tyre.
The measure of how quiet a tyre is while driving.
How the tyre is able to respond to driving such as accelerating, braking, steering and turning.
The tyre's ability to have grip on unpaved surfaces such as dirt, mud, sand, rock or gravel.
*When compared to other Avon tyres
Slick Historic
Wide range of sizes with approved patterns appropriate for historic applications

Aesthetically engineered in keeping with the period of the vehicle.

Designed specifically to compliment the chassis characteristics of classic and historic performance cars

Optimises the performance and driver pleasure.

Compounds designed to provide confidence inspiring dry performance

Exceptional all-weather performance.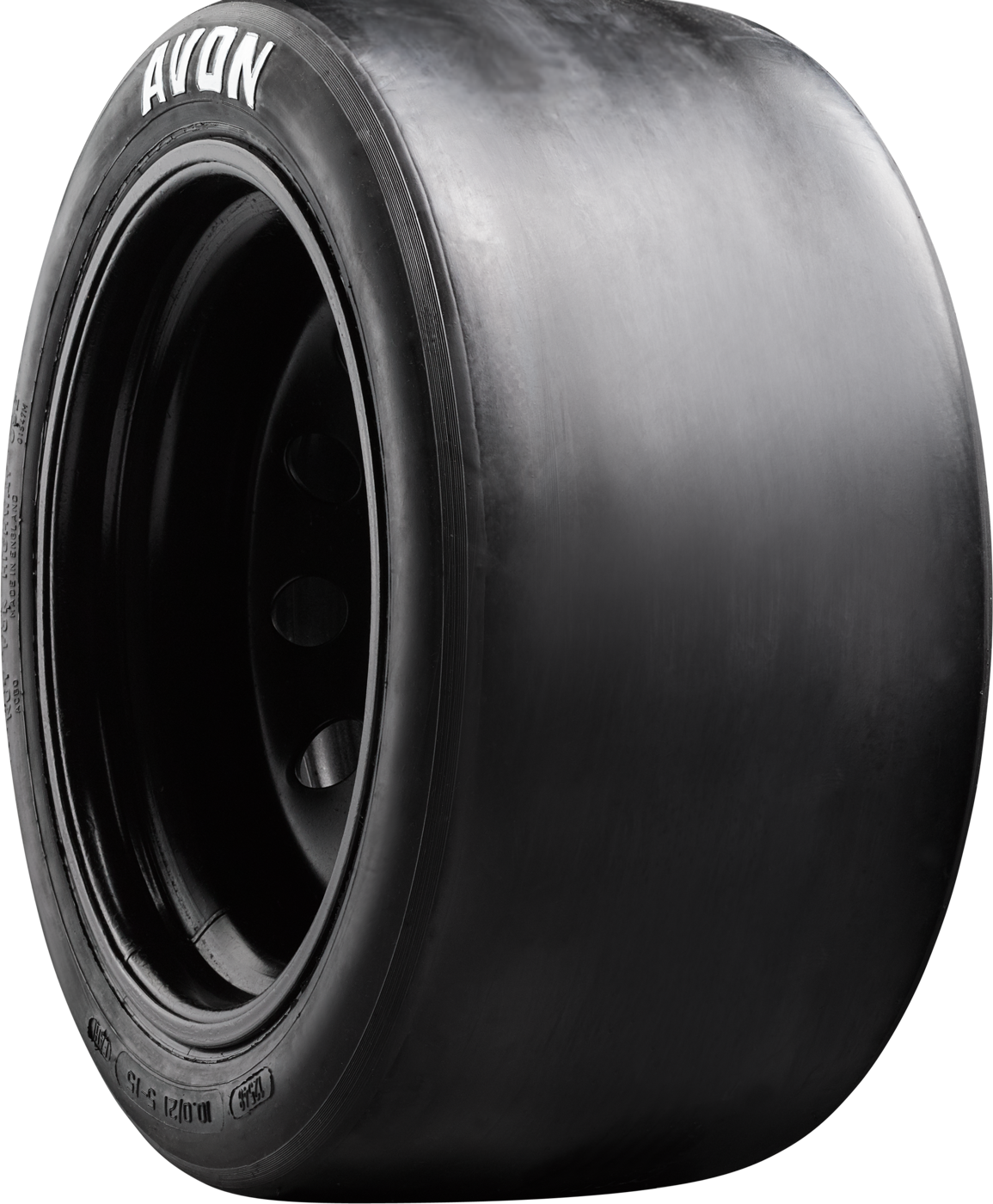 Full specs
Tyre specifications
There are 33 tyre sizes available
Tyre size

The nominal tyre size below is listed on the sidewall, this is a reference to the dimensions of the tyre. For example: Tyre Tread Width / Tyre Aspect Ratio or Tyre Diameter / Rim Diameter

Rim choice

Recommended range of wheel widths to be used

Rim used

Rim used for measurement of the tyre

Measured at

(cannot find text: coopertires_sites:site.tooltips.avon_motorsport_measured)

Diameter

Overall diameter of the tyre

Section

Overall section width of the tyre

Tread

Overall tread width of the tyre

Revolutions

Total number of rotations for the tyre to complete a mile or kilometre

Tread

Overall tread width of the tyre

psi
Bar
ins
mm
ins
mm
ins
mm
miles
km
patterns
8.5/16.0-10
8.5 - 9.5
9
20.0
1.4
15.90
404
9.25
235
7.99
203
1268
788
View
9.0/20.0-13
8.0 - 10.0
10
20.0
1.4
20.00
508
10.67
271
9.17
233
1008
627
View
10.0/20.0-13
9.0 - 11.0
10
20.0
1.4
19.80
503
11.10
282
10.20
259
1019
633
View
6.5/21.0-13
5.5 - 7.5
7
20.0
1.4
20.50
521
9.02
229
6.50
165
984
611
View
7.0/21.0-13
6.0 - 8.0
8
20.0
1.4
20.60
523
9.02
229
7.17
182
979
608
View
8.2/22.0-13
7.0 - 10.0
9
20.0
1.4
22.00
559
10.12
257
8.58
218
917
570
View
9.2/22.0-13
8.5 - 10.5
10
20.0
1.4
22.40
569
11.10
282
9.09
231
900
559
View
10.0/22.0-13
9.0 - 12.0
11
20.0
1.4
22.10
561
11.89
302
10.28
261
913
567
View
10.5/23.0-13
9.5 - 11.5
11
20.0
1.4
23.50
597
12.28
312
10.28
261
858
533
View
12.0/23.0-13
12.0 - 14.0
13
20.0
1.4
23.20
589
14.49
368
12.28
312
869
540
View
13.0/23.0-13
13.0 - 15.0
14
20.0
1.4
23.25
591
15.16
385
12.99
330
867
539
View
14.0/23.0-13
14.0 - 15.0
14
20.0
1.4
23.25
591
15.55
395
13.58
345
867
539
View
13.0/24.5-13
13.0 - 15.0
14
20.0
1.4
24.30
617
15.51
394
12.48
317
830
516
View
15.0/26.0-13
15.0 - 18.0
16
20.0
1.4
25.75
654
17.76
451
15.00
381
783
487
View
16.2/26.0-13
16.0 - 18.0
17
20.0
1.4
25.80
655
18.74
476
16.30
414
782
486
View
10.5/23.0-15
10.0 - 12.0
11
30.0
2.1
23.55
598
11.97
304
10.28
261
856
532
View
8.5/23.5-15
7.0 - 9.5
8.5
30.0
2.1
23.60
599
9.61
244
8.78
223
855
531
View
9.1/23.5-15
8.0 - 9.5
8.5
30.0
2.1
23.55
598
9.88
251
8.46
215
856
532
View
11.0/23.5-15
10.0 - 12.0
11
30.0
2.1
23.30
592
12.09
307
11.30
287
866
538
View
9.5/25.0-15
9.0 - 11.0
10
30.0
2.1
24.75
629
11.69
297
9.21
234
815
506
View
11.0/25.0-15
10.0 - 12.0
12
30.0
2.1
24.70
627
13.58
345
11.30
287
817
507
View
13.0/25.0-15
11.5 - 14.0
14
30.0
2.1
24.80
630
15.39
391
13.19
335
813
505
View
15.0/26.0-15
15.0 - 17.0
16
30.0
2.1
25.75
654
17.40
442
15.00
381
783
487
View
16.2/26.0-15
16.0 - 18.0
16
30.0
2.1
25.80
655
17.91
455
16.30
414
782
486
View
12.5/27.0-15
11.5 - 14.5
13
30.0
2.1
27.00
686
15.24
387
12.48
317
747
464
View
14.0/27.0-15
13.0 - 16.0
15
30.0
2.1
27.10
688
16.69
424
13.98
355
744
462
View
16.0/27.0-15
15.0 - 18.0
16
30.0
2.1
27.50
699
16.81
427
16.06
408
733
456
View
10.0/23.5-16
9.0 - 11.0
10
30.0
2.1
23.60
599
10.94
278
10.00
254
855
531
View
11.0/23.5-16
10.0 - 12.0
12
30.0
2.1
23.50
597
12.56
319
11.30
287
858
533
View
12.5/23.5-16
11.5 - 13.5
13.5
30.0
2.1
23.40
594
13.74
349
12.68
322
862
536
View
12.5/25.0-16
11.5 - 13.5
13
30.0
2.1
24.75
629
14.21
361
12.48
317
815
506
View
13.5/25.0-16
12.0 - 14.5
14
30.0
2.1
25.00
635
15.20
386
13.39
340
807
501
View
14.0/27.0-16
13.0 - 16.0
14
30.0
2.1
27.20
691
15.75
400
13.98
355
741
461
View
Speak to an expert